The Top Choice for Modern Pergolas in Raleigh, NC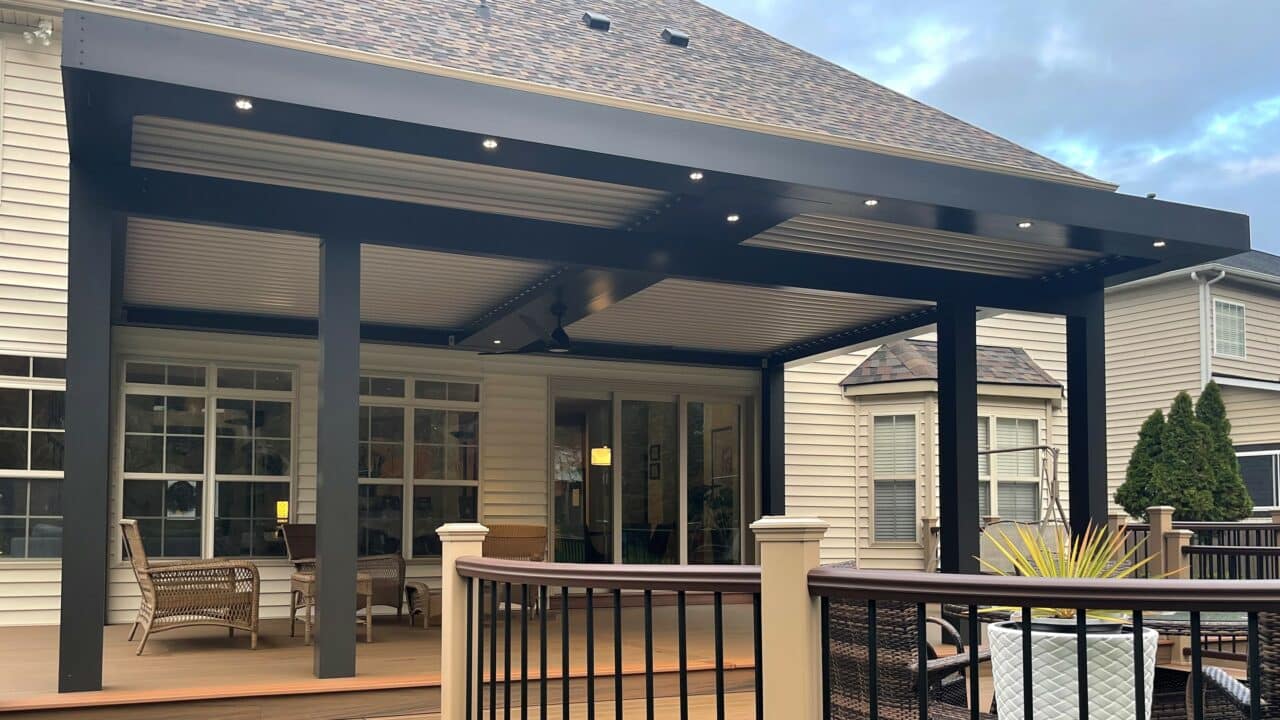 Pergolas connect decks, patios, and gardens to residential or commercial buildings, creating aesthetically pleasing outdoor spaces. The shaded area keeps out sunlight and rain, allowing property owners, guests, and visitors to enjoy the great outdoors in comfort.
While most pergolas are attached to buildings, we can also build them as freestanding units. Whatever pergola design you have in mind, we can bring your vision to life! Majestic Outdoors is the name to trust for modern pergolas in Raleigh, NC.
StruXure Raleigh by Majestic Outdoors
When you work with us for your pergola, you can count on quality because we are a StruXure pergolas installer. Our professionalism and the quality of our pergola installations saw us become the leading StruXure dealer in Raleigh, NC.
The low-maintenance Pergola X system has changed the outdoor experience for residential and commercial properties.
Residential pergolas: 

The days of ending your get-together early due to showers or only using your deck in the mornings and evenings are long gone. Our pergola systems put control over your outdoor experience back into your hands.

Commercial pergolas: 

Are you a Raleigh business owner looking to update or expand your outdoor space? We build professional pergolas made of 100% pure extruded aluminum that stand up to heavy traffic in dining areas, outdoor break areas, and pools. Unveil a new outdoor experience for your clients with an innovative motorized pergola system. 
You no longer have to choose between a pergola that shows the stars and one that provides shelter from the elements. The louvered StruXure Pergola X system sets you up for a life of hassle-free, fun outdoor experiences.
The Benefits of StruXure Raleigh Pergolas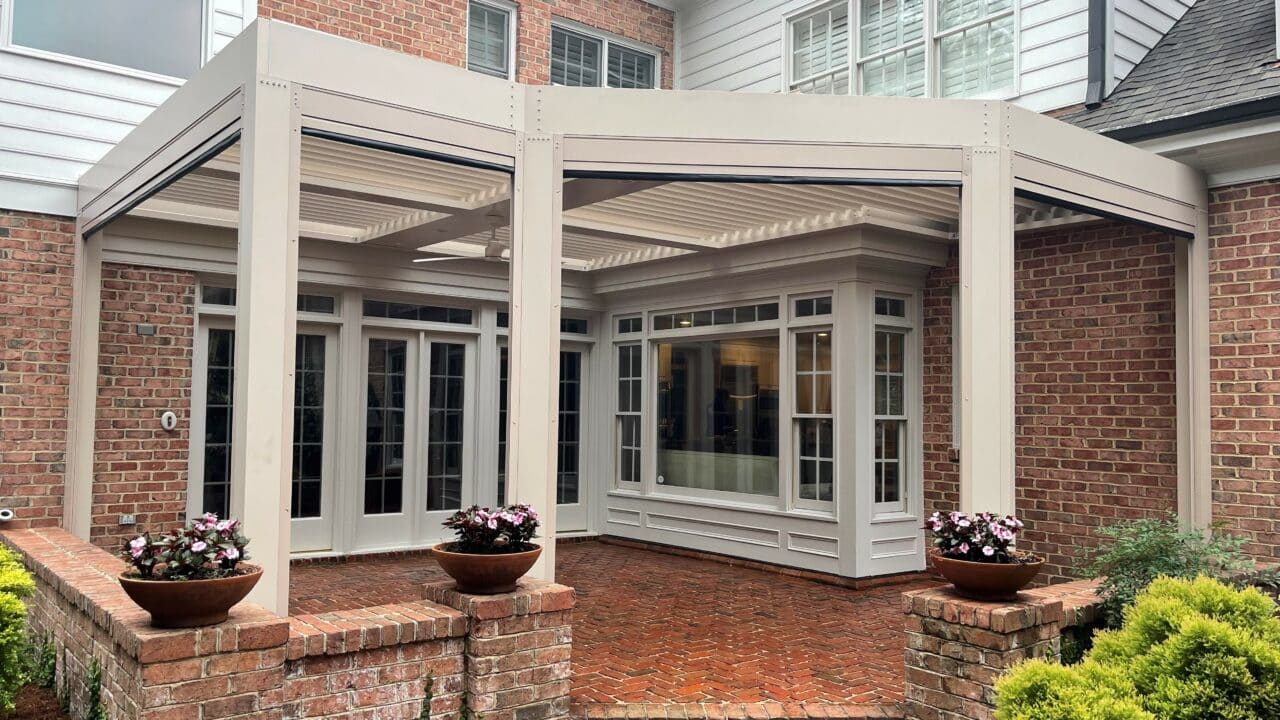 Below are some of the benefits of StruXure Raleigh pergolas:
The motorized louvers can operate from 0 to 170° allowing complete flexibility and control over the environment.

You can let in more daylight or relax in complete shade.

It can withstand heavy snow and high winds.

The aluminum frame is low-maintenance and long-lasting.

It features built-in gutters to channel rain away from the roof.

The StruXure app and built-in Wi-Fi allow wireless control from a mobile device and integration with home automation systems.

Rain sensors can close the pergola automatically to preserve your outdoor furniture.

You can program a favorite position to reduce the time spent on repositioning the louvers.

Wind sensors open the louvers in winds above 60 miles per hour to minimize uplift.
The Different StruXure Pergola X Models We Can Install
At Majestic Outdoors, we install the four major variants of the Pergola X system for homeowners and businesses. They come with different configurations for providing shelter from the rain and controlling your exposure to sunlight while boosting your property's curb appeal. The models include:
The Pivot 6
This Pergola X system is most popular with homeowners. The pivoting louvers can open up to 170 degrees, allowing you to control the amount of sunlight entering your space.
Enjoy time outdoors, early in the morning or late in the evening with some sunlight and at high noon with the sun fully overhead.
The Pivot 6 XL
This system spreads out further and can handle excessive rainfall. It's an excellent choice for commercial properties.
The Pivot 6 Slide
The StruXure Pivot 6 slide is for homeowners and businesses that want a motorized pergola without louvers. You can open it completely for an unimpeded view of the sky and close it partly or fully as the weather changes.
The Pan 6
This pergola allows a mix of ceiling panels to protect your outdoor space. They are the perfect choice for large spaces that will benefit from having both fixed ceilings and louvers. You can easily alternate between both of them.
Whatever type of StruXure Pergola you prefer, you can trust our team to deliver. And if you're not sure about the right choice for your outdoor space, we'll provide the guidance you need.
For some of our customers, a motorized louver pergola is enough. However, if your deck or patio also doubles as an outdoor kitchen or cinema, you'll want more protection for your appliances. In that scenario, a sliding pergola or a mix of louvers and sliding ceilings might work best.
Our StruXure Raleigh Maintenance Service
As the number one dealer for StruXure pergolas in Raleigh, NC, Majestic Outdoors also offers a comprehensive cleaning and maintenance service for all our customers.
When you sign the maintenance contract with our team, we'll come to your home four times a year to clean the pergola and check the operation and all moving parts.
Our cleaning and maintenance service will keep your pergola looking and working like new year after year.
Fall in Love with Your Outdoor Space with Our Custom, Majestic Pergolas
Do you want a modern, low-maintenance pergola for your home or business? Turn to the premier choice for pergolas in Raleigh, NC. StruXure selected us individually as a StruXure dealer because of the outstanding work we were already doing. That's how high the quality of our work is! 
We will analyze your needs and recommend the perfect StruXure pergola system for your space.
Fill out the contact form today to discuss your needs.