Custom-Built Decks for Every Type of Home
Decks are where families can make memories, relax, enjoy time outside, and create a space that speaks to their style. While there are countless options for deck building, many property owners love custom decks, as they are in complete control of the design process.
From adding a built-in fire pit to having the right amount of seating, our experts at Majestic Outdoors consider everything about your deck, down to the last detail. We believe every client should love coming home to a beautiful deck that meets all their needs. We go above and beyond to achieve that, listening to your vision for the perfect deck and going above and beyond with our design and building expertise.
Custom decks come in all shapes and sizes, so you don't have to limit your imagination. At Majestic Outdoors, we can produce any deck you want, including covered, multi-level, wraparound, pool, and rooftop decks. Schedule a deck consultation appointment with our team today!
Crafting a Personalized, Unique Deck That Checks Every Box
At Majestic Outdoors, we recognize the importance of good weatherproofing and durability when constructing a deck. While property owners find choosing the colors, styles, and designs for the deck the most fun in the building process, we can't forget about stability and protection. North Carolina's harsh weather makes it essential to ensure your deck is weather-proof and can withstand various severe weather conditions. 
When constructing a custom deck, we supply high-quality deck materials, working with trusted manufacturers and products. Custom decks are an investment and one that we don't take lightly. Your deck should remain standing for many years after its construction, allowing it to become a place for making memories and your favorite place to entertain or wind down. 
Benefits of Building a Custom Deck
You don't have to settle for limited pre-made designs with custom decks. If you're investing time, energy, and money into building a new deck, why not get the most out of it? Here are just a few benefits of getting a high-end, custom deck:
Extend your outdoor living space with a deck that's the right size and style.

Choose from a wide range of safe and stylish deck railings.

Pick the lighting and illuminate the most important areas on your deck.

Get as much seating as you need for hosting a huge gathering or enjoying quiet time.

Ensure professional deck builders provide everything you're looking for.

Add custom and built-in fireplaces, firepits, seating, lighting, planters, and more.

Match the style of your deck perfectly with your home.

Create a smooth transition from your indoor space to the outdoors.
You don't have to sacrifice any design features when you go with a custom deck! Experience greater curb appeal and a higher property value by investing in a deck that's as unique as your home.
What Makes Our Custom Decks So Special?
Choosing the right company to build your custom deck is an important decision. At Majestic Outdoors, we have experienced and knowledgeable deck builders and designers passionate about delivering the best decks.
We tackle design features like flower boxes, sun covers, seating, and everything in between to create the most attractive custom decks.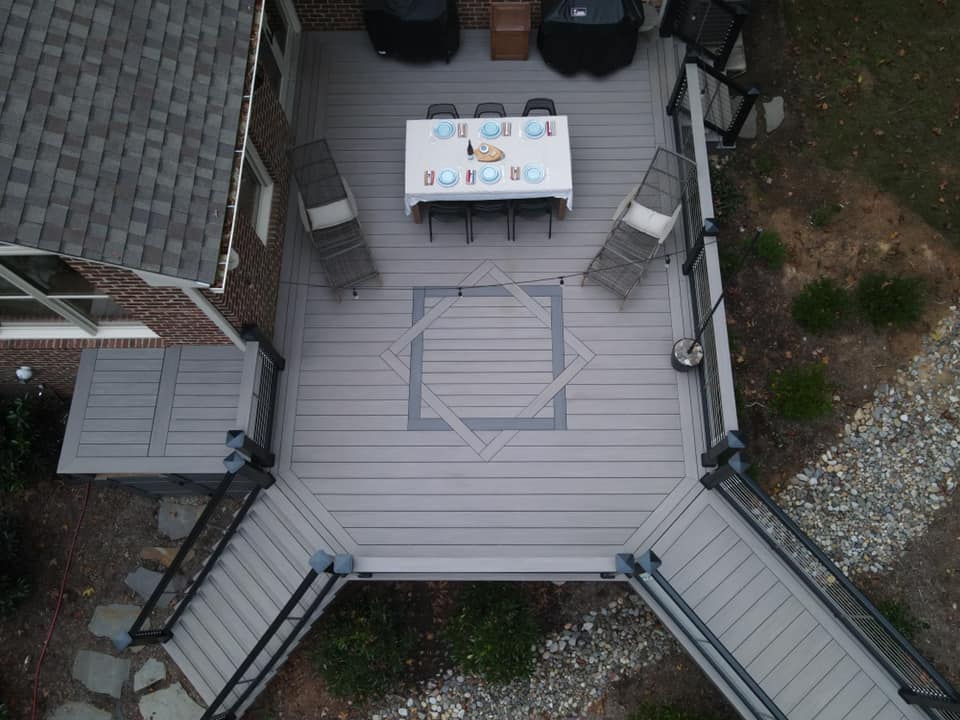 We go beyond the standard design aesthetics by allowing our clients to add deck inlays. The possibilities are limitless and can make any deck stand out among the rest. Deck inlays might include a logo, family crest, pattern, shape, or fun design that speaks to your family's style. 
Deck inlays add unmatched beauty and are an excellent conversation piece for everyone who sees it. It can also visually break up such a large space. Other popular ideas for deck inlays include compasses, Celtic knots, stars, triangles, or even a large game board for chess!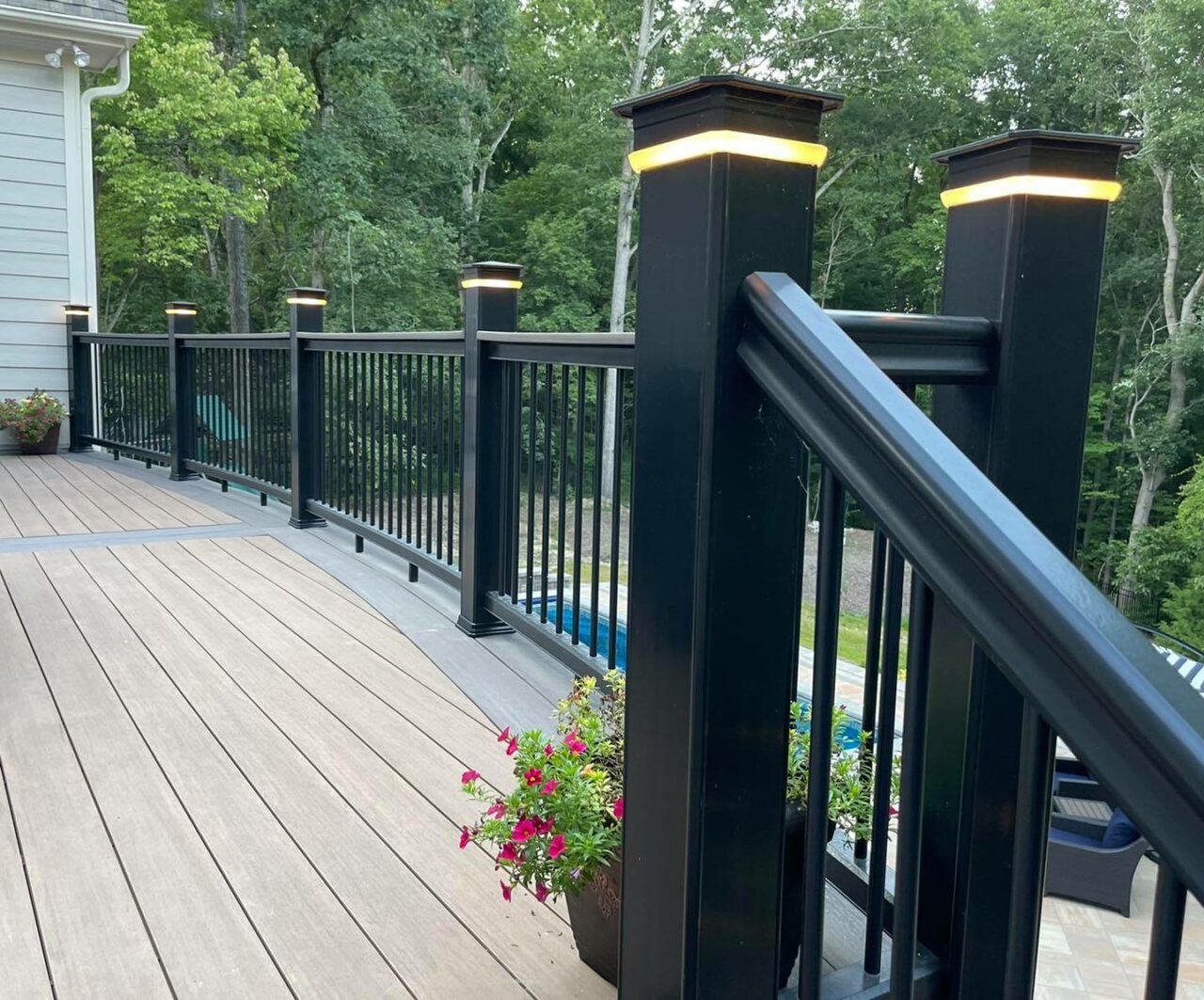 Deck lighting not only provides aesthetic appeal and sets the mood for your space, but it's also essential for safety. Having a well-lit deck can prevent your family and friends from getting hurt and lets everyone know where to walk. If you have a cooking area on your custom deck, it's especially essential to have good lighting, as it makes enjoying a meal, cooking for guests, or pouring drinks easier and safer.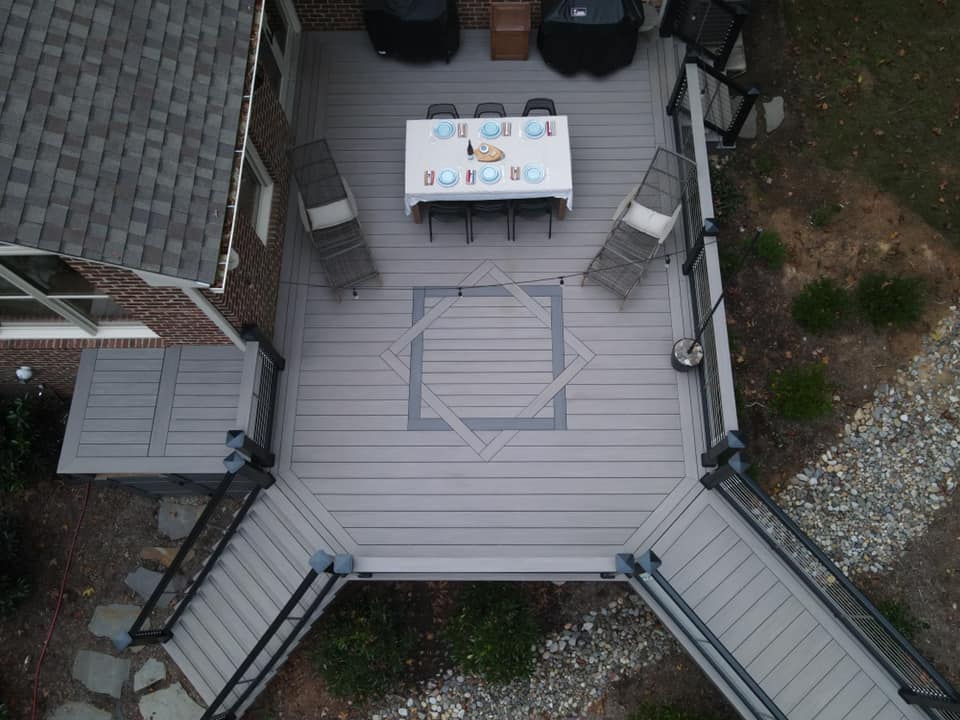 Our custom curved decking allows you to make the most of your outdoor space and find a design that works for you. Not all builders are capable of constructing this unique deck shape, but our team is well-equipped to handle the job. With your curved deck, we can provide:
Custom curved seating with a built-in fireplace

Round tables and chairs

Curved railings for security and safety

Curved steps and transition areas
Built-In Fireplaces and Firepits
Cold weather doesn't have to stop you from spending time out on your deck!
We offer custom, built-in firepits and fireplaces to keep you warm while sitting out on your deck. You can choose the colors, materials, and styles to create the ideal area for relaxation and gathering. We also may add lighting, seating, tables, shade structures, and so much more.
Strong Foundation and Support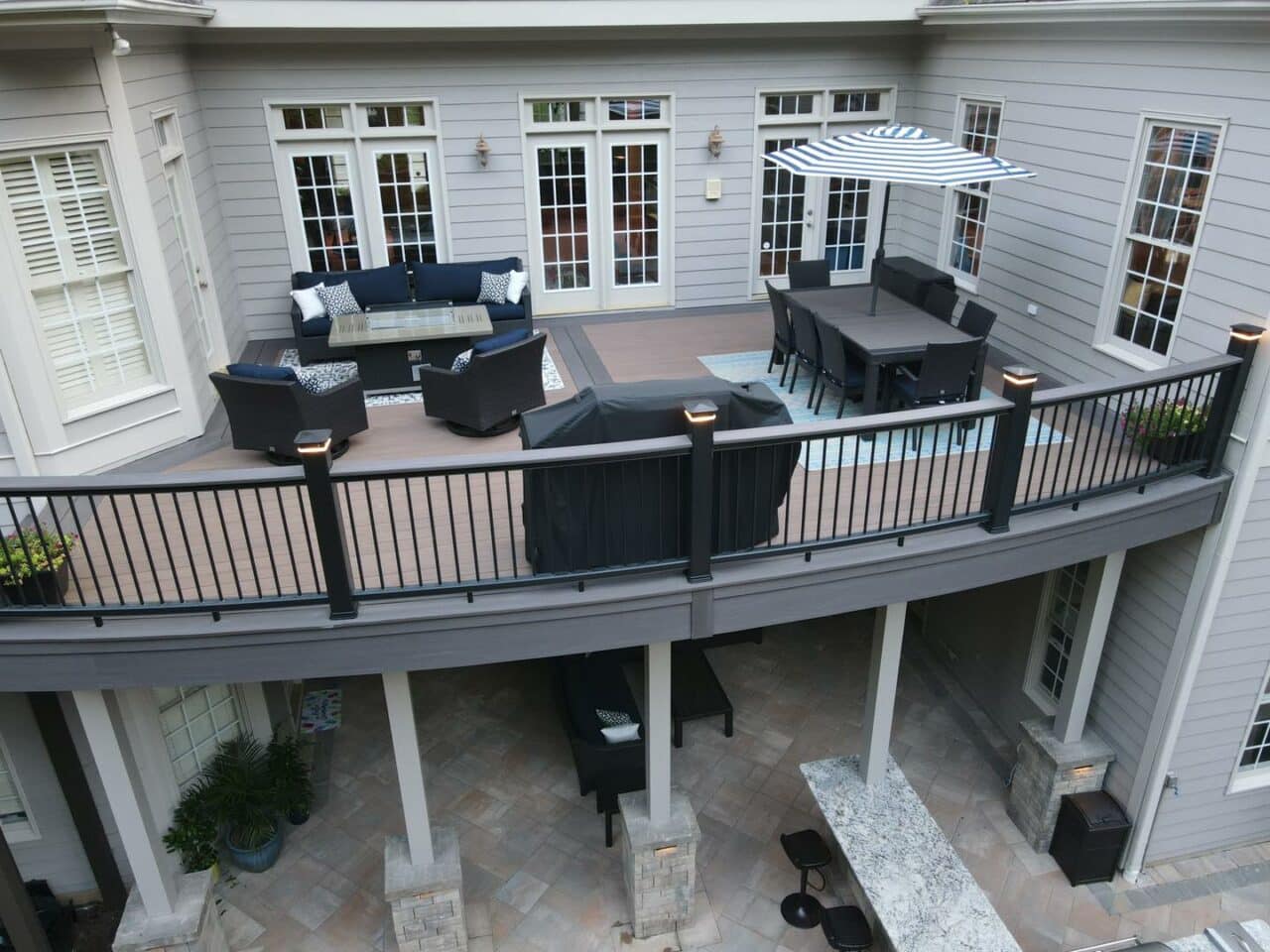 Receive the Custom Deck of Your Dreams With the Team at Majestic Outdoors
If you're ready to finally bring your dream deck to fruition and receive the best possible results, contact our team at Majestic Outdoors. Regardless of what features matter most to you, our dedicated deck-building team is ready to deliver an incredible finished product. We have years of experience providing five-star deck services to Raleigh, North Carolina, and the surrounding areas, and we are the perfect business to assist you.
See why many clients have chosen us to build their custom decks! Call our Majestic Outdoors team today at (984) 689-9342 to get started.