The Best Local North Carolina Service Providers for Curved Decks To Bring the Majestic Outdoors to You
Have you considered elevating your outdoor living space with a deck space where you can make memories with friends and loved ones? While regular rectangular decks remain popular, there's something to be said for the smooth aesthetics of beautifully curved decks. If you want an elegant outdoor area that's the perfect setting for barbecues and holiday celebrations, this could be it.
Whether you already have your dream deck design in mind or you're starting from scratch, Majestic Outdoors' expert patio and deck contractors can help. Our custom decks highlight your home's best features for unbeatable entertainment areas and much more.
The Benefits of Installing a Curved Deck
What unique benefits does a curved deck offer to your home and outdoor areas? Whether you're trying to elevate your property before putting it on the market or needing a new outdoor space to host people, a curved design could give you everything you're hoping for and more.
A Curved Deck Improves Curb Appeal
Adding a curved deck can increase your home's curb appeal if it's visible to neighbors, guests, and anyone who appreciates beauty in design. Built-in outdoor entertainment spaces highlight your home's best features, making your property shine from all angles.
A Curved Deck Could Maximize Home Value
If you're considering putting your house on the market, a curved deck may provide a simple way to increase your property's potential value to a homebuyer. A built-in patio and outdoor entertainment area will certainly stand out to those looking for features unique to your property. And a strong selling point for your house garners better offers.
A Curved Deck Promises Valuable Entertainment Space
Curved decks maximize the available space in your yard, whether you like hosting parties or you're caring for children and pets. These entertainment spaces can be a much-needed recreational hub that easily supports furniture like dining tables, lounge chairs, and porch swings. If you want comfort and flexibility between daily life and special events, you might also want an outdoor kitchen or bar.
Curved Decks vs. Rectangular and Square Designs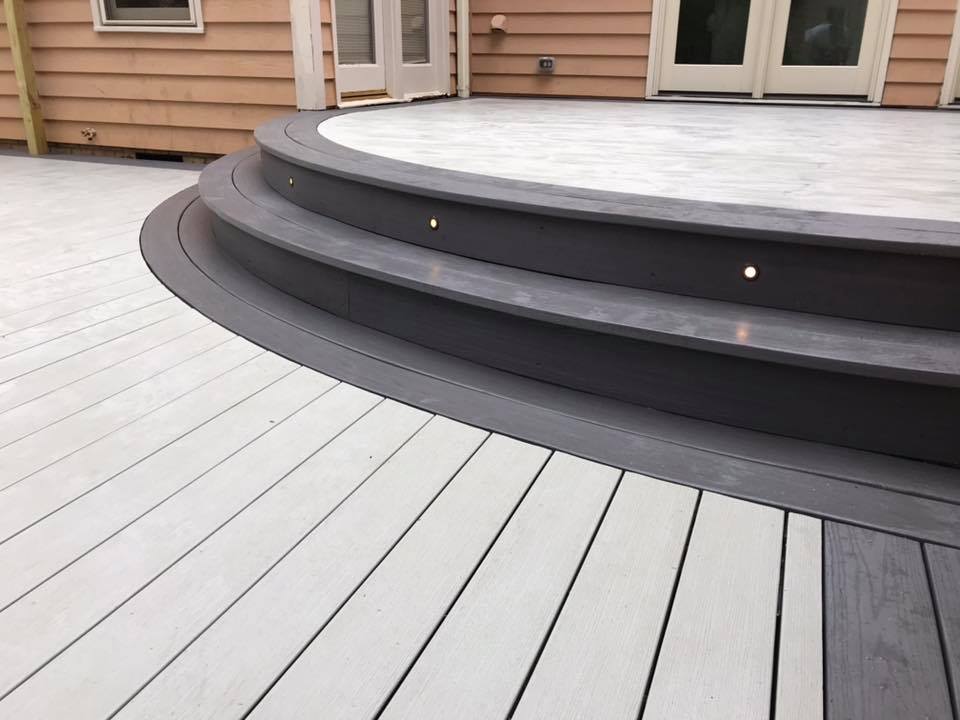 A curved design offers several unique benefits over traditional layouts, including the following:
Fits Seamlessly With Nature
There are no straight lines in nature. Adding a rigid rectangular or square deck can create discord between your backyard and any adjacent natural features. Curved designs blend in, offering a more seamless feel to your outdoor space.
Captures Views Better
Curved structures allow more standing spaces from which to enjoy the view. The sharp angles in square and rectangular designs limit these spaces. If you want everyone to relish the splendor of your yard's features or scenery while children and pets play outside, curves are the way to go.
Embodies Luxury
Design experts agree that soft curves offer a more elegant and luxurious appeal than angular designs. Seamless, curved aesthetics create a greater sense of flow and harmony, so these decks easily elevate your outdoor living space.
Increases Space Usability
Corners create several challenges when it comes to adding furniture, plants, and other decorative features to your deck. Opting for a curved deck can improve the usability of your outdoor space. Why not let the professional deck designers from Majestic Outdoors optimize your deck's curvature to maximize the available space and give you more from your backyard?
Enhances Durability
Your outdoor deck will field tons of foot traffic and activity, so a durable design will maintain its appeal for longer. In terms of engineering, angled designs on decks sometimes result in weaker corners that don't bear weight as well as curved options do. Choosing a curved deck could allow you a few more years of use without needing repairs or replacements.
Additional Features To Consider Alongside Your Deck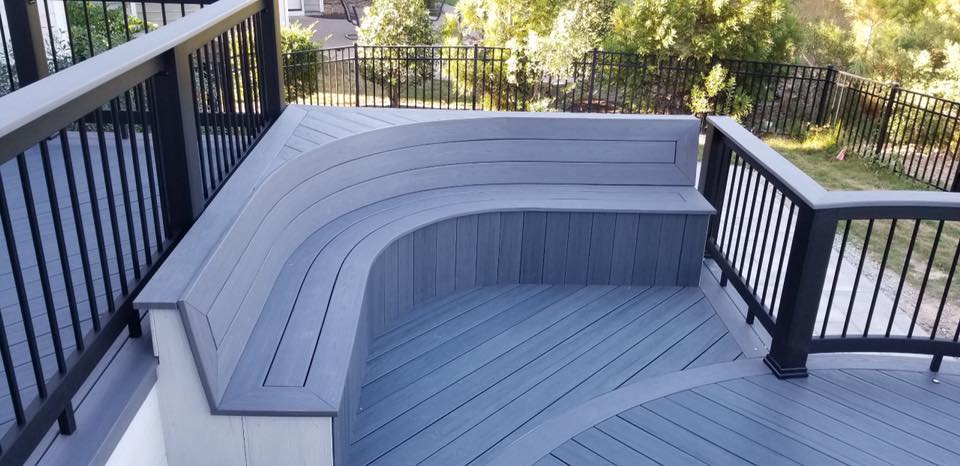 Along with your new deck, adding other features to your outdoor living space promises a few exciting prospects to elevate the area even further. Take your property to the next level with one or two of the following additions:
StruXure Pergolas
Design options like StruXure pergolas provide you with a modern and sleek covered space for any patio or deck. These gorgeous lines and textures can offset the rounded look of curved decks to create a varied aesthetic in the yard. These spaces also offer sun protection so you can enjoy your backyard more or even install a fan for additional cooling and comfort.
Firepits
Firepits offer a warm, cozy space to enjoy the winter months or even a beautiful summer evening with friends swapping stories. Even on the coldest days of the year, sitting around a roaring fire with loved ones keeps everyone comfortable and enjoying each other's company. These pits also elevate the look of your backyard space considerably.
Outdoor Kitchens
Outdoor kitchens can revolutionize the usability of your outdoor living space overnight. With grills, sinks, pizza ovens, and refrigerators on offer, you'll soon be hosting a premier backyard barbecue that brings everyone together. These features even offer additional storage for food, drinks, and recreational supplies. 
Why Hire Professionals for Curved Deck Installation?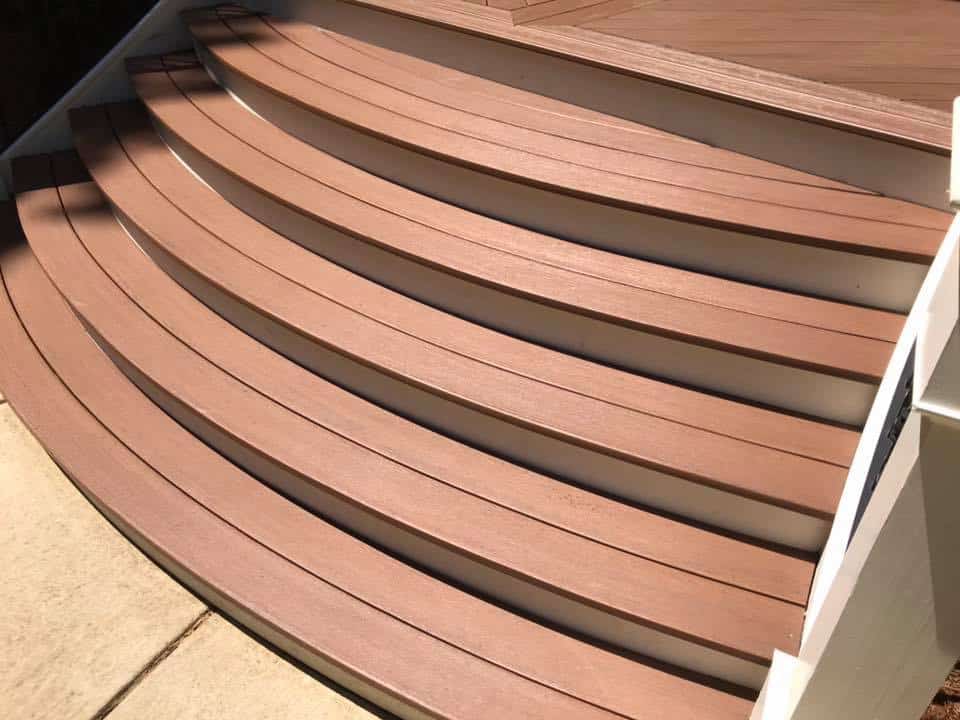 Some homeowners want to build their own curved deck, but even with some experience in construction, these projects are tough. It requires a high level of expertise and experience for a successful installation, especially if you'd like to avoid damaging your property, injuring yourself, or ending up with subpar aesthetics and finishes. Rather schedule deck construction with experts like Majestic Outdoors and guarantee yourself a perfect deck!
Your Outdoor Space Deserves a Curved Deck From Majestic Outdoors
The deck-building experts at Majestic Outdoors create breathtaking backyard spaces that increase your home's curb appeal, functionality, and comfort. We're passionate about stunning outdoor spaces that highlight your property's best features, whether our construction professionals add decks, patios, StruXure pergolas, outdoor kitchens, or anything else to your backyard. 
Let's connect about your brand-new outdoor space with curved decks or anything else you'd like to explore. Our top-rated deck construction professionals are happy to help.