The #1 Choice for Composite Decks in Raleigh, NC
Say Goodbye to Deck Maintenance Worries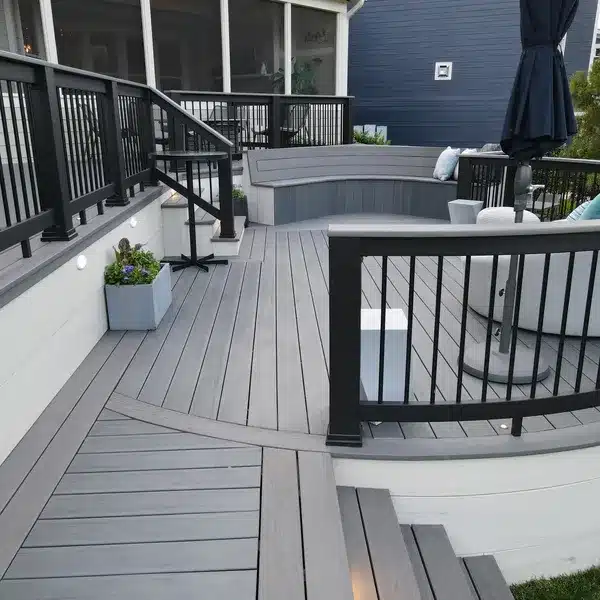 A deck is the perfect place to relax and unwind after a hard day at work. It's also the perfect spot to host and entertain family and friends. However, many deck owners spend more time worrying about how these activities and the elements will impact their investment.
No one wants to spend time and money on tedious deck maintenance, and with composite decks, you don't have to! You can focus fully on enjoying the beautiful outdoor living space and making the most of the time you spend with your family and friends.
As the leading provider of composite decks in Raleigh, NC, our team at Majestic Outdoors creates custom outdoor spaces without sacrificing comfort. We are an award-winning composite deck company committed to building high-performing, majestic decks. Talk to us about your composite deck project today.
Why Choose a Composite Deck?
Decks look great, but they can be a hassle to maintain. This is especially true with regular wood decks. With a composite deck, you get to enjoy all the benefits of having a deck tailored to your outdoor space, plus the classic look of wood without worrying about maintenance.
The advancements in technology in the composite decking space mean more homeowners and businesses are installing composite decks. It's the best way to enjoy all the benefits of beautiful decks without spending the time and money required to maintain a more traditional deck system.
Our composite deck installation process maximizes your available space to the fullest. There's no limit to our creative composite deck abilities! Whether you want a simple walk-out deck that extends your home's living area or a stunning multi-level deck with a custom curved inlay, we can deliver.
What Are the Benefits of a Composite Deck?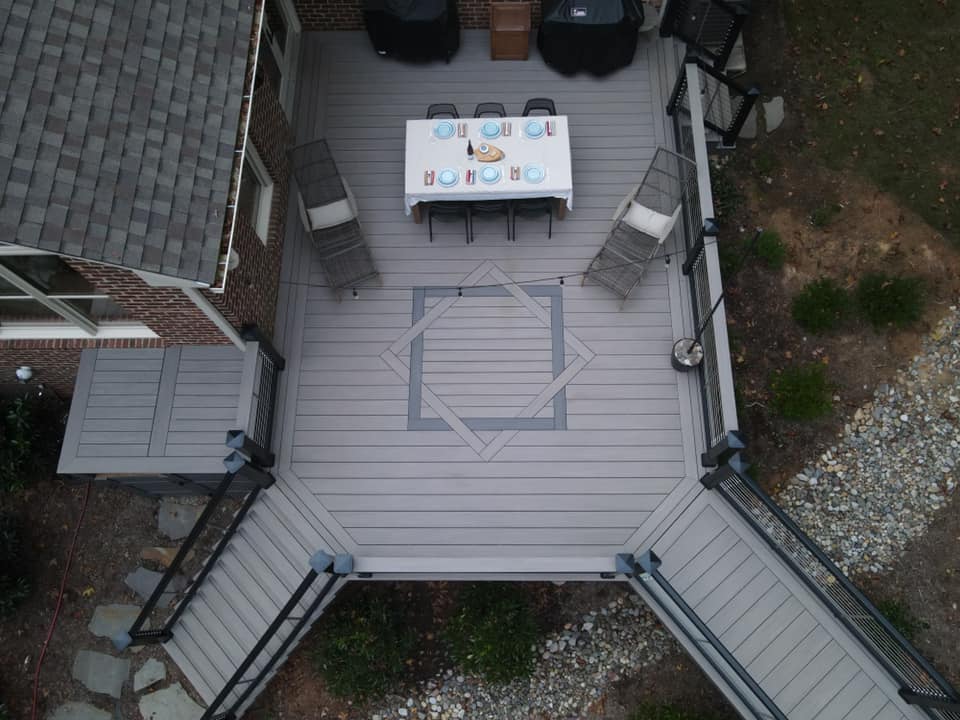 The benefits of a composite deck include:
The surface is weather-resistant and anti-slip.

The color won't fade.

Composite deck materials come in a wide range of finishes and colors.

It's an environmentally friendly, sustainable choice of decking.

It can last up to 50 years, making it the most cost-effective choice. 

Composite decks won't develop splinters, making them family friendly.

Cleaning the deck only requires soap and water.

Composite decking boards are non-permeable, so there's no risk of staining.

Composite decking will not warp, crack or rot.
We Offer the Best Products from Leading Composite Decking Brands
At Majestic Outdoors, we build quality decks using composite decking from two of the biggest names in the industry: TimberTech and AZEK.
TimberTech is the leading brand of composite decking. They heavily influenced the decking industry with their advanced synthetic material technology that doesn't contain wood particles.
They make different lines of products that feature a special blend of cellulose fibers and plastics. The result is a highly durable, low-maintenance deck material that's easy to clean and also fade-resistant. The brand continues to invest in research into long-lasting, eco-friendly deck materials.
TimberTech composite products are backed by a 25- to 30-year limited product warranty and fade and stain warranty. You can enjoy total peace of mind knowing the company stands by its product throughout its lifespan.
At Majestic Outdoors, we are proud to be an award-winning TimberTech Platinum Pro contractor. This designation highlights our deep knowledge of building exquisite composite decks using TimberTech materials.
When it comes to choosing colors and wood grain finishes, you have a rainbow of aesthetically pleasing options. We have the experience to help you choose a deck design and style that will perfectly complement your space.
Find out why we are the top choice for composite decks in Raleigh, NC, today.
AZEK is the parent brand of Timbertech. They make highly durable composite deck products with a comprehensive 50-year warranty. Homeowners and businesses have three major collections to choose from:
The Harvest Collection
The Arbor Collection
The Vintage Collection
Each one has a unique look and feel, with boards of different widths and colors available.
AZEK composite deck materials don't contain any traditional wood fibers but instead use durable recycled PVC. You can expect all the benefits of composite decks and more.
Our Composite Deck Cleaning Service
Do you want to maintain your composite deck's aesthetic appeal? You have to clean it occasionally to get rid of dust and other surface dirt. Since composite decks are stain-resistant, cleaning the deck is a simple, straightforward job.
However, your best effort at cleaning your composite deck is no match for our cleaning service here at Majestic Outdoors. We offer the service after the first year of installation and every year onwards to keep your composite deck looking truly majestic.
Transform Your Property with a High-performing, Majestic Composite Deck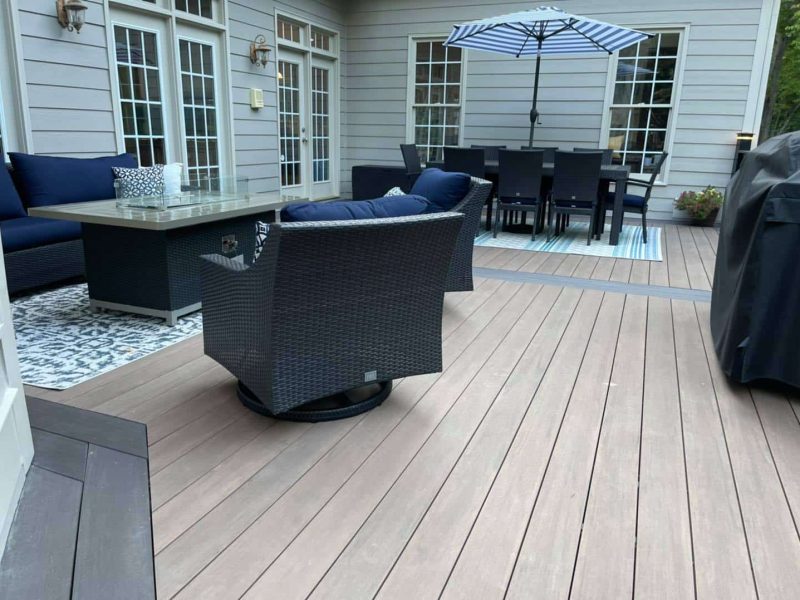 Do you want a hassle-free solution to improve your outdoor space and make it more functional, enjoyable, and aesthetically appealing? Choose composite decks! With our extensive experience, you can trust us to give you a sturdy composite deck that will last a long time. To know more contact us now!
We take pride in being the go-to choice for composite decks in Raleigh, NC. When it's a majestic deck, it's going to last.