Custom Outdoor Kitchens in Raleigh, NC
Add Functionality and Luxury to Your Yard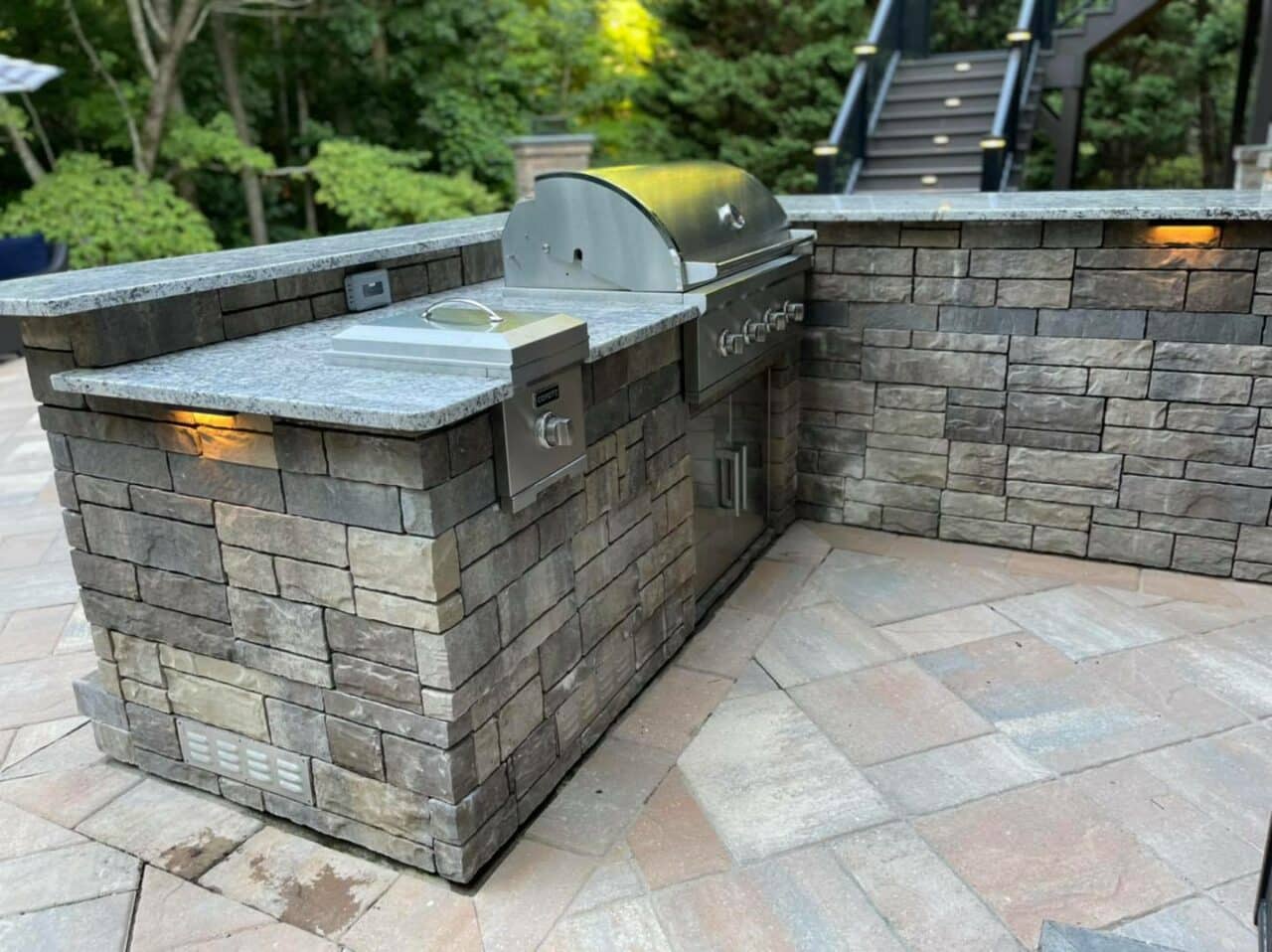 Say goodbye to running between your kitchen and your deck or patio when you have guests over for a meal. It's time to add an outdoor kitchen to your space.
At Majestic Outdoors, we install outdoor kitchens in Raleigh, NC, helping homeowners use their outdoor spaces to their full potential. We install efficient, functional, high-end outdoor kitchens that save you from the hassle of moving back and forth between your kitchen and your guests. Instead, cook everything right on your deck or patio!
With over a century of combined experience under our belt, you can trust us for top-class customer service on your outdoor kitchen project.
Why Choose an Outdoor Kitchen?
There's no sugarcoating it. Indoor kitchens suddenly feel inadequate when you have a large guest list and so many dishes to cook. Even when your living room is large enough to take all the guests, you don't want to miss out on all the fun while in the kitchen.
An outdoor kitchen allows you to expand your living space for hassle-free entertainment. You can host your guests on your deck or patio, keeping the activities and everyone in one place.
And when there are no guests, you can enjoy the beautiful feeling of cooking your favorite meals while soaking in the sights and sounds of the outdoors.
The Benefits of an Outdoor Kitchen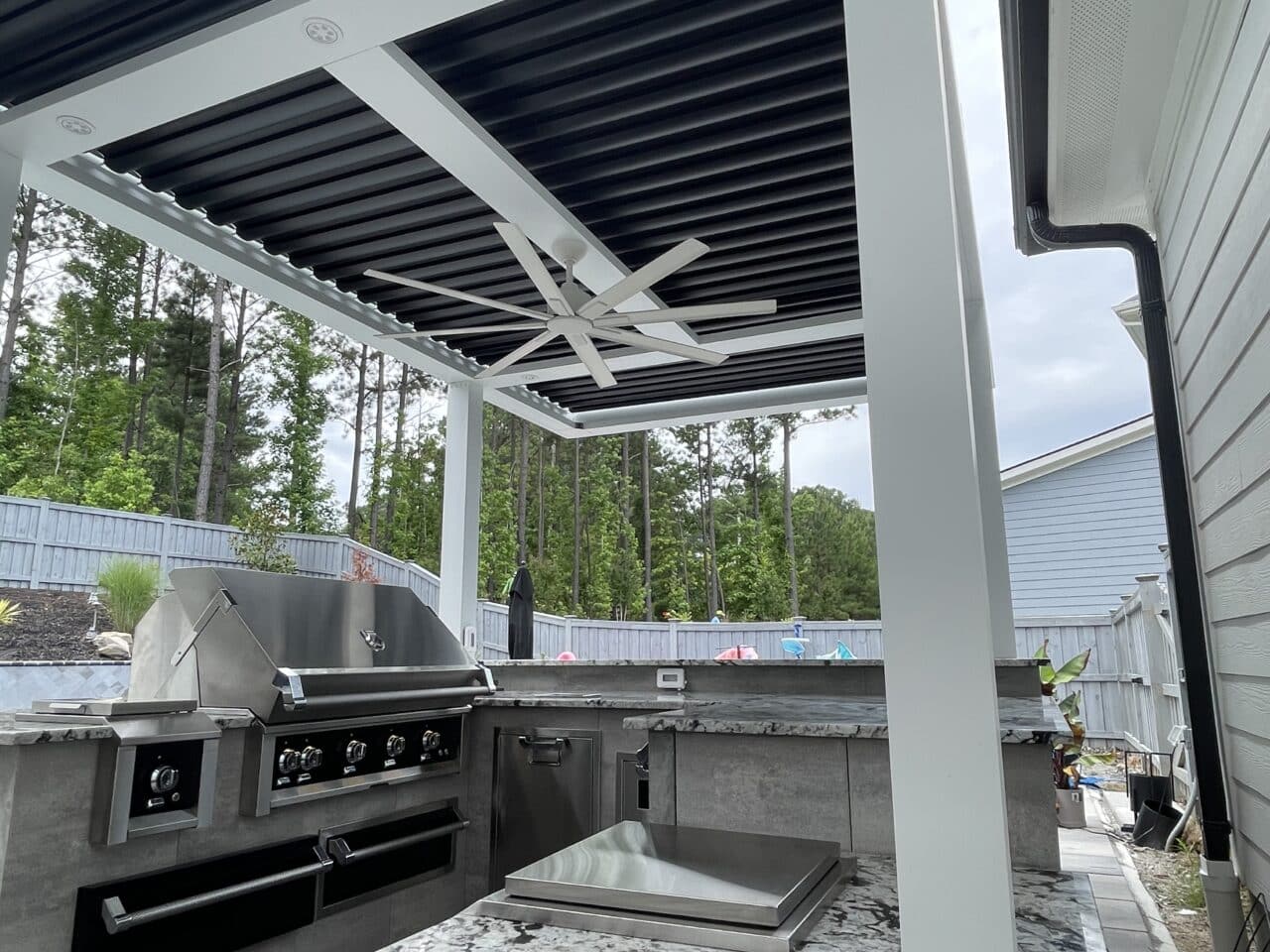 Here are some of the top benefits of an outdoor kitchen:
Cooking outdoors can lower your energy bills

. The heat will dissipate into the atmosphere instead of increasing the workload for your HVAC system.

You can entertain your guests in style

. Grilling up delicious meals beats ordering takeout, especially when you're cooking in your personal outdoor kitchen.

Keep your indoor space fresh

. An outdoor cooking space keeps your indoor air quality high.

Improve your home's value

. An outdoor kitchen is a significant investment that can raise the asking price of your home whenever you sell.

Spend more time outdoors

. The extra hours you log outdoors cooking in the kitchen can do wonders for your mental health.
Talk to the premier choice for outdoor kitchens in Raleigh, NC, to enjoy these benefits.
Our Outdoor Kitchen Consultation Process
At Majestic Outdoors, we understand that an outdoor kitchen is a significant investment. That's why we take time during the consultation phase to understand your needs. We'll never slap together a design that doesn't fit your space or style — we proudly go the extra mile to customize everything about your outdoor kitchen.
We'll look at how you intend to use the space to create the perfect outdoor kitchen design. If you don't have any outdoor kitchen ideas in mind, we'll help you bring the picture together.
Will you do a lot of grilling? Do you want a grill and griddle combo with side burners or a flat top? Do you prefer a charcoal or regular grill? These are some of the questions we'll ask to understand your needs.
We'll also customize the workspaces and appliances you want. While some homeowners don't mind spending money on an outdoor refrigerator, others will save 70% of the cost by choosing a cooler and saving the space for cabinets.
Do you want your cabinets open or covered? We always recommend sealed cabinets to keep critters from invading your space.
We'll also work out other details, like your gas connection, electricity, and more, before moving to the granite countertops.
You can choose your own slab colors to ensure the kitchen is an excellent representation of your personality. You can go with our recommended brands or choose yours. Do you want a pergola or a roof over the kitchen area? We can include it in the design.
With every design detail squared away, we'll create a 2D or 3D design of your kitchen to give you a glimpse of how the finished kitchen will look.
Choosing Your Kitchen Appliances
At Majestic Outdoors, we prefer buying the kitchen appliances for you. We know what brands give you the best value for money, and we guarantee appliances that fit in your kitchen. 
However, we are happy to work with you if you want to buy your own appliances as long as we are in the loop during the purchase. It's how we save you from wasting money or delaying the outdoor kitchen construction process.
Installing Your Custom Outdoor Kitchen
During the installation and construction phase of the project, we'll start with the hardscaping. Our granite team will install the slabs and build up compartments for the cabinet, grills, and others in line with the design.
After the hardscaping, we'll proceed with installing the utilities, which include lines for water, wastewater, electricity, and gas. With the utilities sorted, we'll proceed with installing your appliances. Upon completion, we'll show you around the kitchen to ensure you're happy with the final outcome!
Make Your Evenings More Enjoyable
With a custom outdoor kitchen that ticks the right boxes, every day is a good day to spend time outdoors. However, that's only achievable if you work with the biggest installers and designers of outdoor kitchens in Raleigh, NC. To know more contact us now!